Here are the 15 best prom movies to watch with your teen!
Prom can be a great memory or a cruddy one. Which kind of memory do you have? We have compiled this list of the 15 best prom movies to get you in the prom season mood!
This time in a seniors life can be so exciting. But, it can also be frustrating and sad. Prom is built up to be the ultimate event for the end of a senior's year in high school. It can be amazing, but a lot of times it can be a disappointment. Let's talk with our kids and help them to understand that a lot of the hype is just that.
By watching some of these movies about prom night and having discussions with your teens, you will help them to see that while prom can be amazing for some, it might not be for others.
I would love for more girls to ask some of the guys. I would love for the concept of "promposal" to go away. I would love for more kids to go as friends and just have a great time hanging out together!
Here are some of the best prom movies we came up with that will be fun to watch together whether your teen attends prom or not!
**This post contains affiliate links, which means if you click on a link and make a purchase, I may receive a small commission. As an Amazon Associate I earn from qualifying purchases. For more information, see the full disclosure in the foot bar.
Best prom movies to watch in no particular order…
The great thing about all of these best prom movies is that each of these situations for the characters is different. Many similar themes obviously, but for many of these characters, prom is just part of the story. This might be something to remind our kids -it's just a part of the story…
 10 Things I Hate About You
10 Things I Hate About You is a great modern day version of "The Taming of the Shrew," -which if you never read, you are missing out -10th grade English anyone?? There are many intersecting story lines and great cast. It is one of the best 90s prom movies. It was released in 1999. PG-13
She's All That
She's All That is another old story retold, Pygmalion… Another great cast. I love the younger siblings of each main character -they add a fun layer to the story. Also made in 1999. PG-13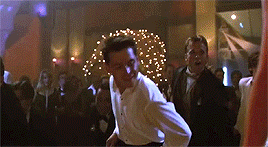 Pretty In Pink
I remember being in college and loving Pretty in Pink. I admired Andie's creativity and how spunky she was! Made in 1986. PG-13
Mean Girls
Mean Girls has so many great references to a lot of other teen movie hits that came before! I love the way so many of these casts are amazing. Made in 2004. PG-13
Back To The Future
Back to the Future is not your typical prom movie, but it still counts. Marty has to go back in time to make sure his parents go to their prom and fall in love. Fun to watch the sequels after this if you haven't lately! Made in 1985. PG
Napoleon Dynamite
Either you love Napoleon Dynamite or you don't. We happen to love it because, who doesn't love nerds? My boys can spew so many quotes from this movie, and keep us laughing for hours. Sweet story. Made in 2004. PG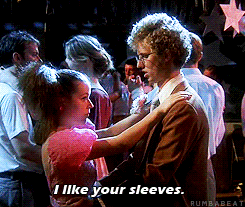 It's A Wonderful Life
As I was looking for movies with prom in them, It's A Wonderful Life took me by surprise only because it's absolutely one of my top 3 favorite movies. I only watch it at Christmas, but sure enough, as you get the back story for George and Mary, it is one of the classic movies with prom scenes.
George and Mary are not together, but still, it's the start of something bigger to come. (Read my prom story below. ↓ I married someone from my prom and he was not my date!)
There are two versions: It's A Wonderful Life (B/W Version) and It's A Wonderful Life (Colorized)
1946. PG
Grease
Grease is of my favorite musicals of all time! Prom is just one of many great scenes of singing and dancing! I love this peek into the 50s. Made in 1978. PG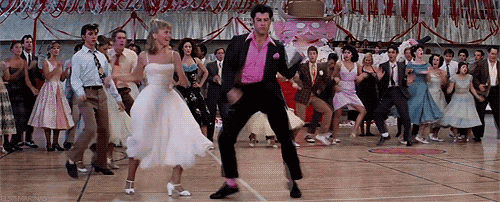 Never Been Kissed
Never Been Kissed is another one I had not seen. Cute movie about a unique do-over for senior year. Drew Barrymore's character's first prom was like something from the worst prom horror movies. She gets a 2nd chance at prom when she goes underconver at her old high shool. Early role for Octavia Spencer which is great! Made in 1999. PG-13
Footloose
Footloose (Original) was another great movie from my teenage years, and really there is not much to say, except It's a classic, and your teens need to see it! Made in 1984. PG I have not seen the Footloose Remake, but I'm not sure it can be as good! Have you seen it? What are your thoughts?
High School Musical Senior Year
The High School Musical Movies were so popular when my boys were growing up! They have 6 girl cousins that they spent a lot of time with, so the girls may have chosen these movies, but even my boys enjoyed watching! Fun to watch the entire series to get to know the characters and get them to prom in High School Musical 3. Made in 2008. G
Ladybird
Ladybird was such a real slice of life movie about senior year and is one of the best 2000s prom movies. All the angst and drama. Ladybird is such a typical teen that it is almost scary how in my head she got, and I haven't been in high school in almost 40 years! Made in 2017. R
This was one that I had not seen until I began writing this post. Is it cheesy? Yes. Is it predictable? Yes. Did I enjoy it? Yes. If you have watched Notorious or The 100, you will recognize the two main characters. Made in 2011. PG
There are so many great prom movies to watch!
No matter how old you are, you definitely have prom memories! Some are good, and some are bad. Mine, Mel, was okay. I had a good time with a good friend. But…. that was after I had been unasked by the guy I wanted to go to. Ironically, that guy is now my husband. I always tell him he's forgiven, but it will never be forgotten.
Related posts
Best Prom Movies To Watch With Your Teen😍
Plan For Senior Year Expenses Now!
Help, My Senior Is Pulling Away From Me!
Great Graduation Brunch Ideas!
The Best Books to Give At Graduation: 29 Great Choices
What Happens To Parental Rights When Your Teen Turns 18?
How to stay in touch with Next Phase Parenting:
Be sure to see all of the Next Phase Parenting Resources on our Resources Page and subscribe to our Next Phase Parenting newsletter below for a weekly dose of love from us about surviving and thriving in your almost or already empty nest.  Visit our Facebook page, and follow us on Pinterest and Instagram where we share lots of helpful info for parents with teens, young adults, our aging parents, and other issues that we experience in the sandwich generation ! Thank you so much!❤️